The brains behind the Mad Men Tour is the perfect person to lead strangers round the watering holes of Manhattan – because he has been fascinated by the 60s since childhood.
Josh Hirsch is a huge fan of Mad Men, calling it 'the best drama in television history'. He has in-depth knowledge of the characters, symbolism and plots, but his love of the era it represents emerged long before Don Draper and his cohorts were ever conceived.
He explains: "I was born in 1974 and grew up listening to 60s music. Music in the 1980s didn't appeal to me, so I gravitated toward The Who, The Stones, and The Grateful Dead.
"I'm also fascinated by the whole Beatnik generation of the 1950s, especially in Greenwich Village, where Don Draper moves briefly, after his divorce from Betty."
Hirsch's original job couldn't be further removed from the relaxed, cocktail-sipping atmosphere of his Mad Men Tours. He was a stock trader. And when the market crashed in 2008, he seized the opportunity to reinvent himself by starting a walking-tour company specialising in food.
Then in 2012, he saw a gap in the market for a Mad Men tour and jumped on it. He says: "I saw that nobody was doing it and thought someone should be. Why not me?
"Next thing you know you have a website, you're developing a script and route, and taking friends on mock tours to get feedback. Then you have people from all over the world taking the Mad Men Tour. It's fascinating and mysterious how things happen. I'm convinced you don't choose it, it chooses you."
There are two Mad Men tours – one day and one night. The day one takes in eight locations depicted on the show.
The guide discusses the significance of each location and shows clips of the series from an iPad to illustrate how they recreated 60s New York on a set in LA. The final stop naturally involves a cocktail in one of the places featured in Mad Men.
The night tour takes in different spots and a lot more hard liquor. If you want to truly live like Don or Peggy, this is the tour for you, as it focuses on the actual bars where the characters drink, including The Oyster Bar and the beautiful Roosevelt Hotel.
The show itself remains a topic of great interest to Hirsch, and he is eloquent on its attributes, saying: "I find the character development most appealing. The storyline doesn't matter as much as the character's personal growth. Sometimes they just drop a storyline, giving the viewer no closure whatsoever.
"The attention to detail is awesome too. It's a period piece, so their fact-checkers have to make sure they get everything correct; from the fashion to a small trinket behind someone's desk, every detail must be accurate.
"There is a lot of symbolism in Mad Men too. It's important to re-watch episodes, because it's easy to miss a lot of the imagery and symbolism.
"It's also interesting how the show starts off in the early 60s, which still has some 50s values and ideals, but the characters we are introduced to are so flawed. Don isn't even who everyone thinks he is. Plus, they drink, smoke and cheat a lot."
It's this depth of knowledge that his customers tap into on the tour, though they themselves are usually longing for what seems like a gentler age.
Hirsch, who lives in the Financial District, says: "People on the tour usually dress up in 50s or 60s attire, so they are yearning for that time in some way too.
"They are usually educated people in their 20s 30s and 40s and the conversation on the tour frequently becomes nostalgic at some point in the night, usually after the second drink.
"We have both tourists and locals alike. I would say 70 per cent of our customers are tourists who want to be taken out for a good time in New York City. They almost always remark, 'We would never have found these places on our own'.
"The success of the tour has exceeded my expectations – people are loving it. We take people out on the town, drink 50s-style cocktails and discuss Mad Men. Does it get any better than that?"
Well, nearly. They almost bumped into Christina Hendricks – who plays red-headed bombshell Joan Holloway – in P.J Clarke's bar, where she is known to hang out off-screen.
Josh says: "We missed her by an hour one night. It would have been amazing to have a character sighting while giving the tour."
But 'Joan' sightings aside, there is one particular character that Hirsch would love to prop up a Manhattan bar with.
He says: "I have an affinity for Roger Sterling. He is like a child in a grown up's body. He drinks more than any other character. He's so troubled and is masking his pain with alcohol.
"We see how complex Don is, but I think Roger has a lot more going on psychologically than we are privy to. He tries to do the right thing by people, but is left wondering what he is doing wrong.
"All his hard work in business and family life gets him nowhere, except pondering what meaning there is in life.
"He trips on acid and lives the counter-culture lifestyle but still puts on a suit and tie everyday. He's always searching for something, but can't seem to find it."
The show has just wrapped up Part 1 of its final series, and the last episodes will be screened in 2015. But the hunger for Mad Men, its themes and nostalgia show no signs of abating, with demand for the tour actually increasing after the penultimate series ended.
And Hirsch intends to mark the very last show in true Roger Sterling style. He says: "We will have a special final-episode Mad Men Tour.
"We will most likely rent a room at the Roosevelt Hotel to watch the last show, as the rooms there have been kept like they were in the 1950s.
"We'll drink Manhattans, Tom Collins, and Old Fashioneds and cry together about the passing of the best drama in television history."
---
Want to dress like Betty Draper? Boo York City vintage clothing shop has an original 50s dress identical to the one Betty wears in Mad Men. Click to view it here.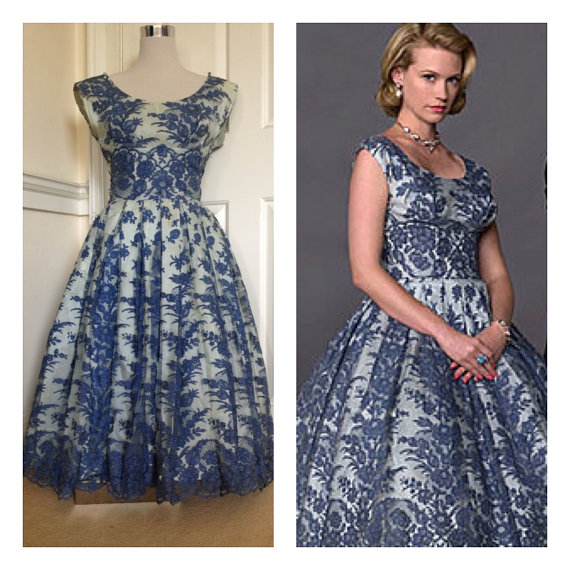 » Culture, Vintage » Mad Men main man's 60s obsession
Don Draper, Joan Holloway, Josh Hirsch, Mad Men, manhattan, new york, Oyster Bar, Roger Sterling, Roosevelt Hotel, walking tours
« Couturier Charles James dressed to thrill Restoration dream of North Brother Island photographer »